Self-guided tours at the University of Washington 
Aivy Phan - Designer + PM
Due to the Covid-19 pandemic, the University of Washington was forced to close down their in person touring experience, as a result of safety concerns. Our team worked towards designing a new
in person touring experience
that took into consideration
Covid-19 safety guidelines. ​
​​​​​​
My role spanned over almost every aspect of this project from
user research, interface design, visual language, and prototyping
. I also acted as a Project Manager which included strategizing our approach, planning out a timeline, assigning tasks, and monitoring the quality and progress of work created by the other designers of this project. 
My contributions during the research and testing portion of the project included data collection through user surveys and user interviews. During the testing phase I also developed all the micro interactions of the prototype using Figma. 
interface design + visual design 
Over the course of this project I ideated and designed most of the application screens, spanning from the onboarding process to the touring process. 
During the research process we went through three rounds of interviews, as well as analyzed survey responses made by potential users. We used an affinity diagram to find similarities between the problems posed by users. Our findings concluded that while guided tours were helpful for more in depth information, these tours often

tired out visitors

and

 felt awkward

because of forced interaction. In addition, two out of the three interviewees noted the problem of getting lost due to lack of signage during their previous self-guided touring experiences at the University of Washington. All three interviewees also mentioned a need for

more relevant information related to student life

, as well as more

information related to their study of interest

during tours. 
Our team's intent when tackling this challenge was to create a product that helped a problem that was relevant to the students at the University of Washington. Due to the abruptness of the Covid-19 lockdown, we found that the University of Washington was not able to make appropriate replacements to their touring program; 
leaving many potential students unable to explore the University of Washington before attending.
- Primary: Potential Students
- Excluded: Hearing Impaired Students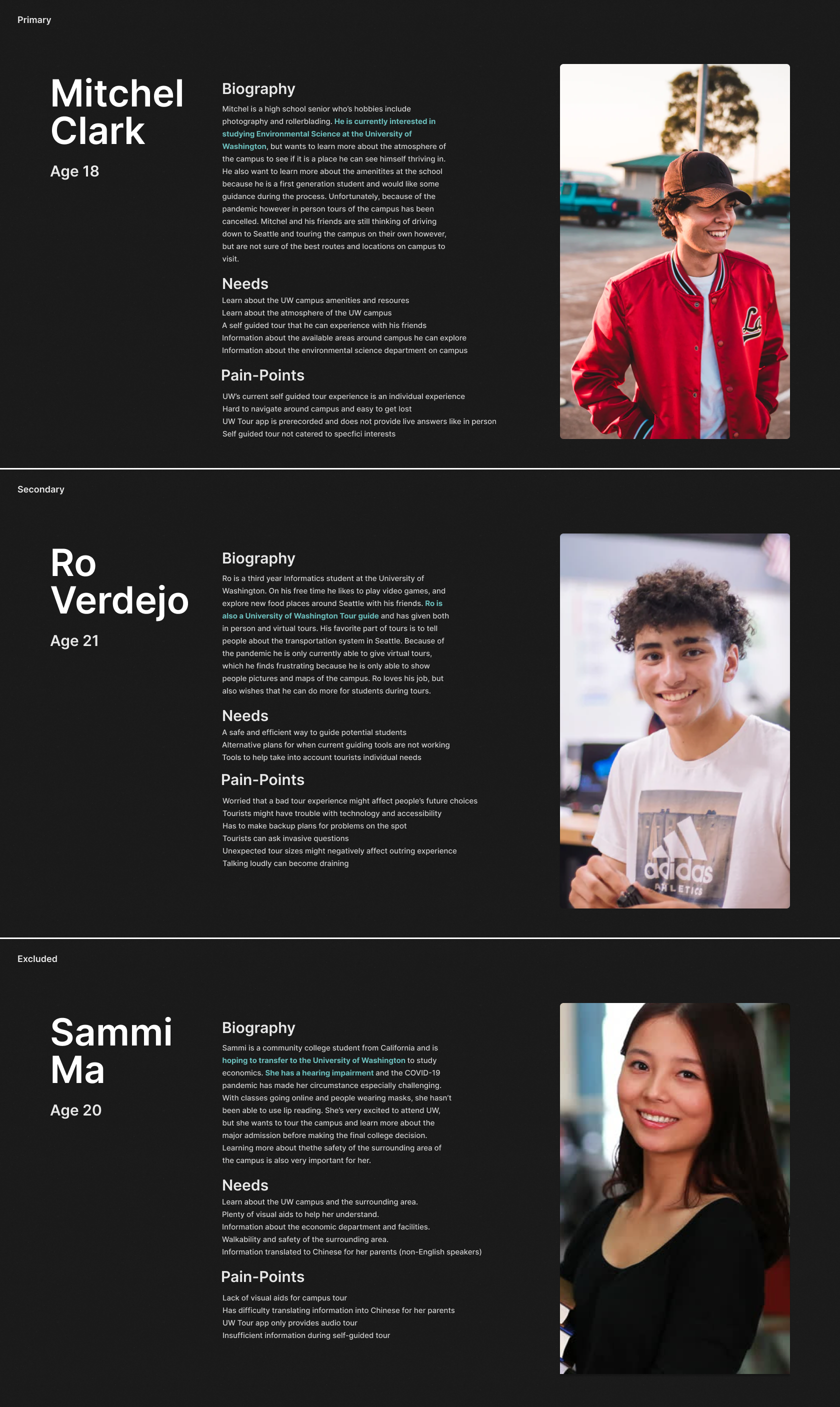 We ideated over
50+ different ideas
for possible product solutions. ​​​​These solutions were then narrowed down after considering their benefits and set backs in relation to our findings. In the end, our team decided to build a
mobile platform to facilitate in person, self guided tours
. This platform would allow users to create
personalized tours
based on their interests, and would also connect students with a personal
chat with a tour guide
for more in depth information, while also keeping visitors and guides safe during the interaction. An
AR viewing mode
 was also added in order to help visitors better find buildings and explore the campus without worry of getting lost. A
visual transcrip
t for all auditory information would also be available for hearing impaired users. 
Before we could continue designing, we wanted to visualize the user's interaction flow with our potential product. We did this by creating a
storyboard
of the interaction, and then used this storyboard to build a
site map
of the platform.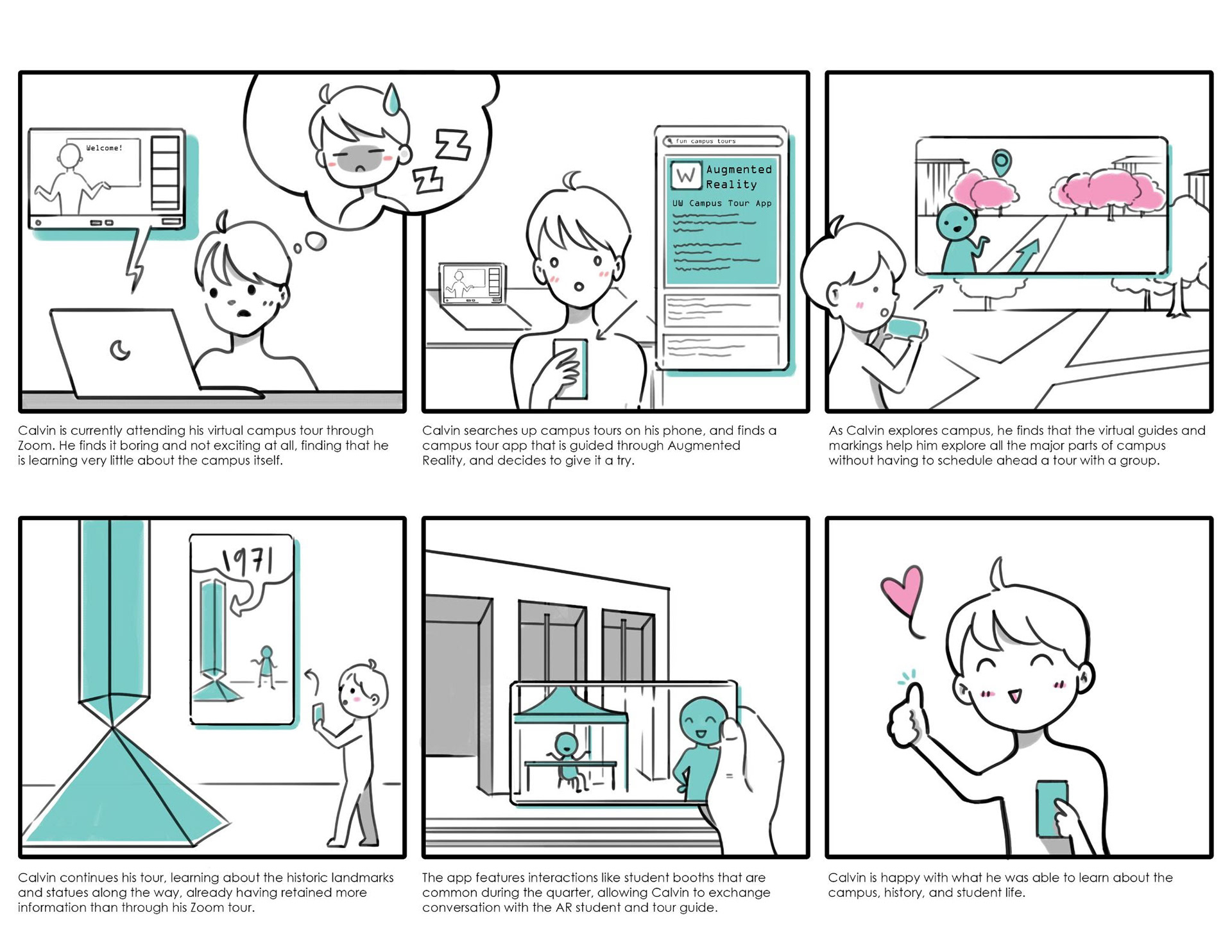 Once the architecture of our product was formed, our team developed
middle
fidelity wireframes
to reflect our user flow. These wireframes were developed in
two rounds of feedback
. The first round of feedback coming from internal team critique, and the second came from our feedback from design faculty. After each round, we further refined our work until we created wireframes that would best address our earlier findings. 
Due to the platforms close association with the University of Washington, we decided to go with a visual language that brought to mind the
school's brand identity
for our high fidelity prototype. 
Figma
was used to develop our screens.
​​​​​​​
Reflecting on this app, I was able to learn about
balancing the needs with the pain points
of different users in my designs. I also learned that designing for individuals with a
disability as a personal attribute can help
other users with
context dependent paint points
as well. In addition, AR as part of tourism was something I was able to explore during this project, and I hope to experiment with this form of technology more in the future. 
​​​​​​​
This project is no longer in progress, but considering the niche interactions associated with this product, it would definitely benefit from
more usability testin
g in regards to the usage of AR when touring. More exploration in this app from the
perspective of tour guides
and school staff would be beneficial as well.