Making the most out of Covid-19 vaccines 
​​​​​​​
Best Adobe XD Project
​​​​​​​
In March 2021, the height of the Covid-19 pandemic and limitations on vaccines left many American's involuntarily unvaccinated. Despite the need however, pharmacies and clinics threw away thousands of vaccine doses due to lack of patients, as a result of state guidelines. Dose Up is a mobile application created in order to
efficiently mitigate the wastage of vaccines
 and
get people vaccinated
as soon as possible.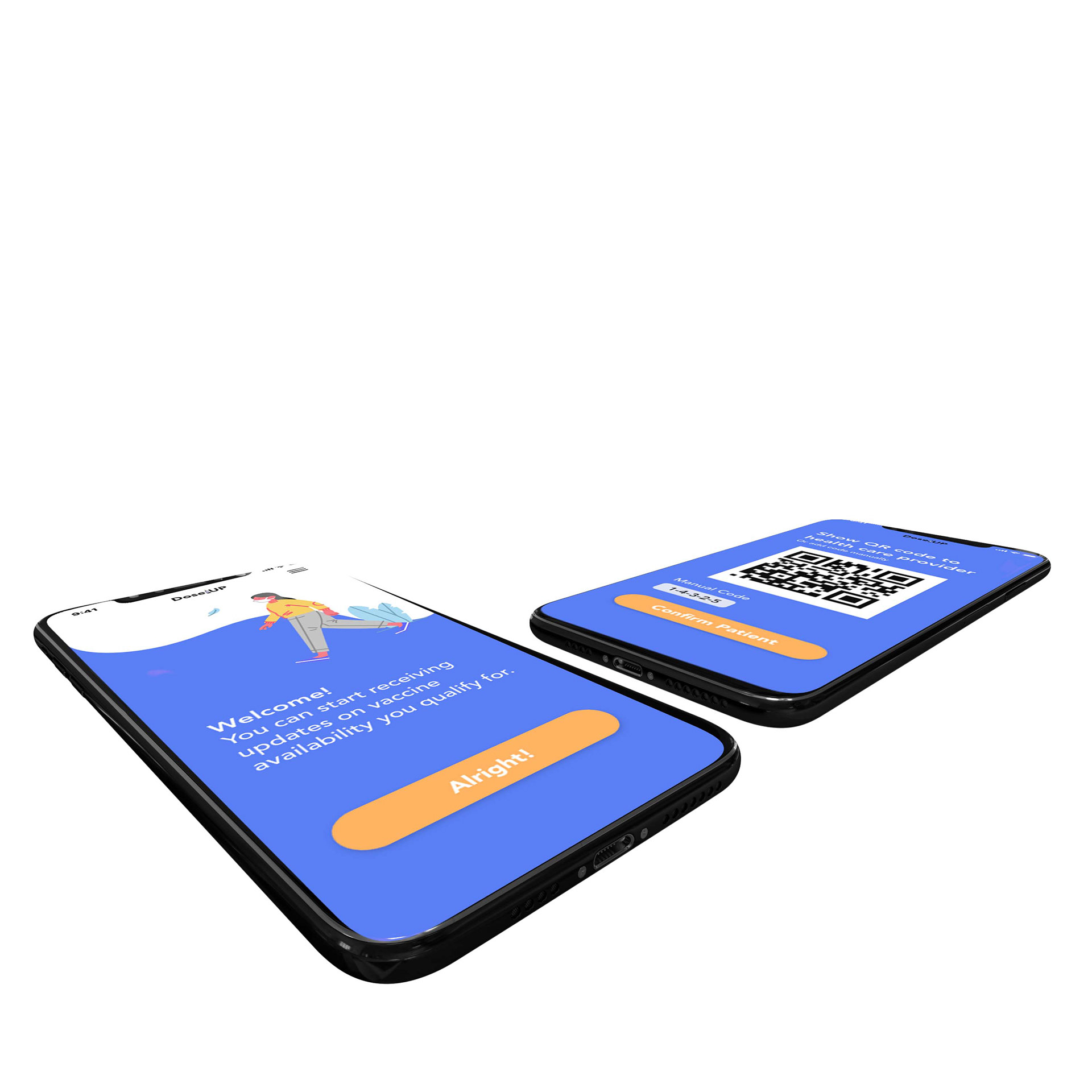 This project was created in forty-two hours for the Catalyst 2021 Designathon, hosted by Boston University. From the beginning of the project, I knew that I wanted to work on a concept that was relevant to the COVID-19 pandemic, and the issues that were currently plaguing our society today, as a result of it. Through personal experience and secondary research, we stumbled upon the problem of vaccine wastage, which we found conflicting with the needs of many non priority people who wished to get vaccinated. I worked together with my partner, Natasha, in developing this opportunity and was involved in almost every aspect of this project including
user research, visual design, interface design, and prototyping.
​​​​​​​
We compiled the questions we had related to our topic and used this information to develop our
survey
. From the
116 responses
 received, we developed more in depth questions, which we used to
interview six potential users
of the product. 
-

Vaccine availability as insider information
.
Most non 
priority people had no clue about extra vaccines. 
Individuals who were both un-prioritized and vaccinated were often notified about extra vaccines through word of mouth. 
-

Lack of trust.

When signing up for vaccination notification platforms, user's were worried about being too low on the priority list to be considered and didn't trust these platforms to notify them about available vaccines. 
-
Distance.
Some user's were unable to receive vaccines because of location and distance, and worried about distance when signing up for vaccine notification platforms. 
​​​​​​​
​​​​​​​
Due to the constraints of the competition, we already knew that we would need to create a mobile application. Taking this information, we created a

user flow for unvaccinated users

, as well as

medical professionals

, based on our primary research. We then ideated

low fidelity wireframes

using these flows. 
When developing our visual language, our team decided to prioritize
simplicity
and
friendly (relevant) imagery
, in order to decrease bounce rate and increase trust in our app. We used Adobe XD to build our high fidelity prototype.
​​​​​​​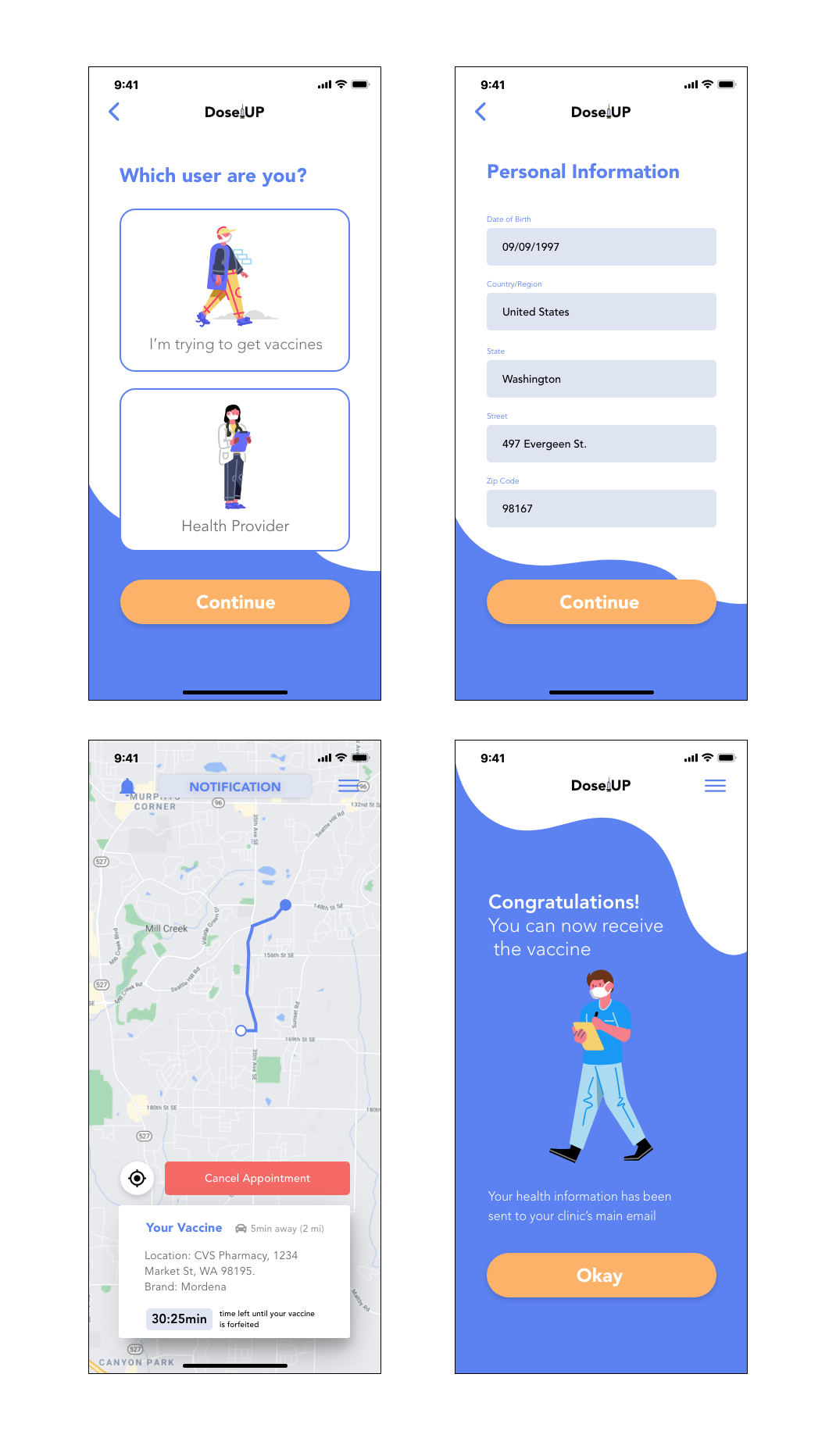 While this project was never implemented, the work that was put into this platform has enlightened me to the importance of
creating an efficient onboarding process
, as well as
designing for human error
. The opportunity to work on such a unique topic has also been an enriching experience for me, but has left me regretful for not pursuing this topic further when it was still needed. 
​​​​​​​
If I were to continue this project I would revisit some of the designs created for the
medical professional user flow
 after
more user interviews
for individuals in that community. I would also do
more usability testing
to further refine the product design. 
​​​​​​​